I am participating in Karin's
Spring Reading Break Challenge
. Today's activity is
a scavenger hunt
.
So, here is what you need to find:

1 - Using keywords related to your interests, find a blog that is new to you. Be sure to give us the Blog Title, Link, and Short Description of the Blog.

2 - A blog belonging to an author from a book in your To Be Read pile (just a random one if you don't have a To-Be-Read pile).

3 - A book releasing THIS MONTH you want to read.
I am looking for new-to-me historical fiction blogs. I wouldn't mind if they were focused on children and young adult books. But it's not a must.
Reading the Past
. Sarah Johnson. I noticed the header, of course, was quite fun. And her blog is turning four--my own blog will be turning four this year--and she has a long blog roll of historical fiction/history related sites. So I'm going to spend some time looking for even more sites!
An Author Blog From MY TBR Pile
This second task is proving much more difficult than I thought. In an odd coincidence of sorts, all the books in this week's most-likely-to-be-read-next pile are written by authors without blogs! Though some of these authors
do
have traditional websites.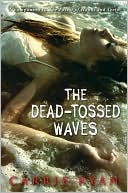 So I'm instead going to highlight a blog by an author whose book I *just* finished.
Susan Higginbotham's Medieval Woman
. I *really* enjoyed her two posts: The War of Roses on Facebook
Part I
and
Part II
.
A book released in March that I want to read....
Dead Tossed Waves by Carrie Ryan!