This 'Top Ten Picks' is from two weeks ago. But. I just loved the topic so much, I had to do it. The weekly feature "Top Ten Picks" is hosted by
Random Rambling
.
The topic for this list is
the top ten books you have to read at least once
.
The Bible. New Testament (At least).
I am a Christian. I don't hide that. So while I know this book wouldn't necessarily make
every
person's top ten list. It had to make mine to be true to who I am. I love the Bible. I do. I am passionate about the Bible. I love both the Old and New Testament. I love the history books. I even love the prophets--both minor and major! I love, love, love Isaiah and Jeremiah for example. But I think everyone should at least try to read some in the New Testament. I'd start with John.
Frankenstein by Mary Shelley
I didn't always love Frankenstein. It took a while for me to connect--really connect--with this one. It was assigned reading in high school. And college. Both undergraduate and graduate. But once I fell for the monster, I fell hard. Oh, how I love this one. I really, truly think it's a book about what it means to be human. I have read it a couple of times since I've been blogging. I do write a new review each time. I never run out of new things (well, maybe some of my readers would disagree?!) to say about this one!
Life As We Knew It by Susan Beth Pfeffer.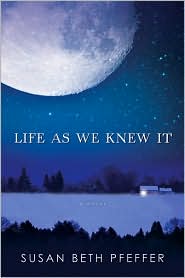 I love this one. I do. Here is a snippet from my first review of it:
"Imagine waking up one day to find that everything had changed practically over night. All over the world massive destruction due to one natural disaster after another. And what if there was no way to turn back the clock. To wake up knowing that each day will be worse than the one before. No electricity. No phone service. No gas or oil. Limited food supplies. What is there left to hope for? How would you live your last days?

Meet Miranda your personal guide through this terrifying adventure."
The Velveteen Rabbit by Margery Williams.
Because every single person needs to know what it means to
be
real. It's a bittersweet story, to be sure, but I think it's well done.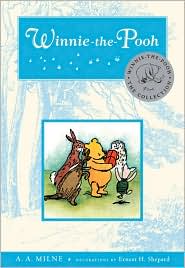 Winnie the Pooh and The House at Pooh Corner by A.A. Milne.
Because every one needs to know what
ther
means. There is nothing like reading Pooh. I mean, I enjoy the Disney film for what it is. But oh-the-joy of reading the original Pooh, the classic Pooh. The stories, the characters, the hums (and yes, I can sing almost all of them) they're just too good to miss.
Gone With The Wind by Margaret Mitchell.
There was a time when I would say without a doubt that this was my absolute favorite book. I loved Scarlett. I loved Rhett. I loved the passionate stubbornness of their love. While I wouldn't say I feel exactly the same way I do now as I did when I first read it (and loved it) as a teen, I still think it's a book that everyone needs to try. Don't be fooled, the book is NOT the movie!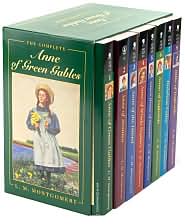 The Complete Anne of Green Gables series. L.M. Montgomery.
I guessed that if B&N can sell them together as a set, I can count them all as one here! I love, love, love L.M. Montgomery. I do. And I love her Anne series. I do. I love Anne and Gilbert. I love Anne of Green Gables and Rilla of Ingleside especially. Though Anne of the Island has some great, great moments. (Like all the proposals that Anne gets!)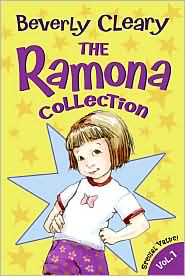 The Ramona series by Beverly Cleary.
I love, love, love Ramona Quimby. And I love, love, love the old illustrations. The newer ones (pictured here) just don't feel right to me. I don't know that I could pick a favorite between Ramona the Pest and Ramona Quimby, Age 8. Both are oh-so-good and oh-so-funny.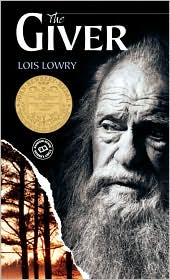 The Giver by Lois Lowry
Part of me had a hard time choosing between The Giver and Number The Stars. Lois Lowry is so very good at what she does. And she writes so many different types of books. Like The Giver was probably one of the very first dystopic novels I ever, ever read. And Number the Stars was probably one of the very first holocaust novels I ever, ever read. I've since gone on to read many more of both types. But I think I'd recommend The Giver a little bit more often. (I also think it's a good way of seeing if a person is more of a glass-half-full or a glass-half-empty kind of person.)
Ender's Game by Orson Scott Card
This was my first science fiction novel. And oh-how-I-loved it. I've read it at least seven or eight times. There was a time when I would read it
every
single year. (The last time I read it was the fall of 2008). I don't feel the need to reread it as often as I used to. But. I still recommend this one because I think Card is amazing with characters. Even if you don't love science fiction, you might just find you like this one anyway.